Get The Most Out Of Your Group Training Session at The Gym Ramona
Our Group Training programs at The Gym Ramona are designed to set you up for success. Flexible class sizes give you the chance to train in an environment where you are most comfortable and can thrive.
During each Group Training session, you'll enjoy hands-on training from one of our leading fitness professionals while enjoying the competition and camaraderie of the classmates around you.
View Our Group Fitness Schedule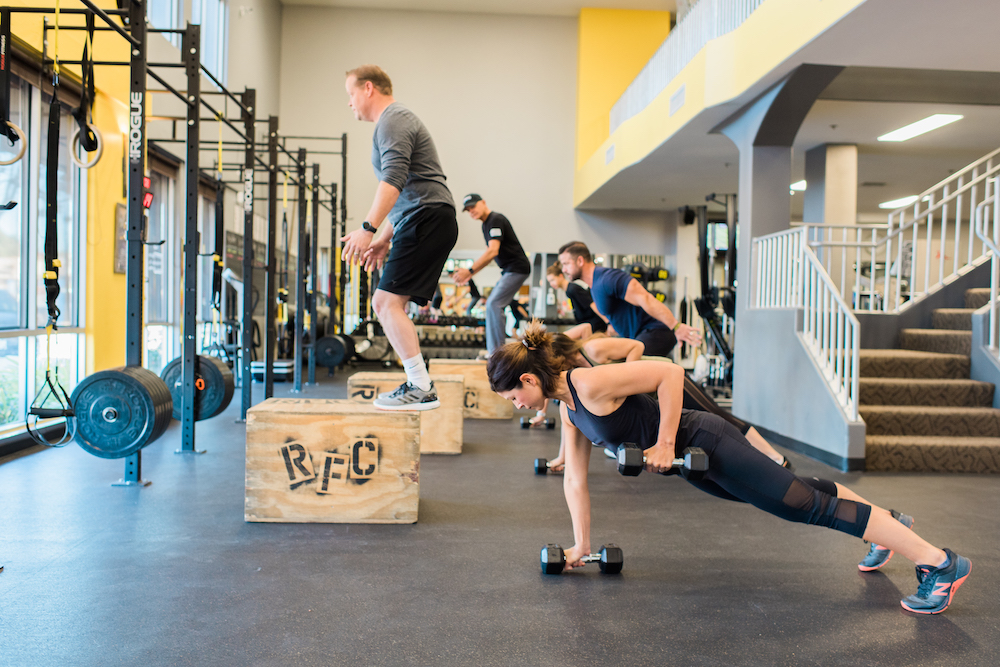 The Gym Ramona Offers Group Training Class Sizes That Work For Everyone
We want you to get the most out of each Group Training session and we invite you to choose which class size you think will work best. Our classes are listen below:
Small Group Training: 4-10 people
Fuel50: up to 20 participants
In our small group classes, we invite groups of 4-10 people to train together in a supportive environment that helps you get the most out of your workout. Our trainers still offer hands-on, individualized training throughout the session while classmates work together to attain their goals.

FUEL Your Workout
Are you looking for an affordable group training program to keep you excited about coming to the gym?
Fuel50 is a specific training program, not a random "bootcamp" or high intensity style workout that simply gets you tired. There is purpose to each phase of this training program and you can start anytime in the program. You will learn how to properly use barbells, kettlebells, dumbbells, suspension trainers and more. New members will have a movement assessment before joining the program.
Built for up to 20 participants, The Gym Ramona Fuel50 classes will take your training to the next level. We pack a ton of high-octane, ever-changing workouts into one program to keep you reaching for your short-term goals. Our Fuel50 fitness classes are sure to keep you motivated in your path to full-body success.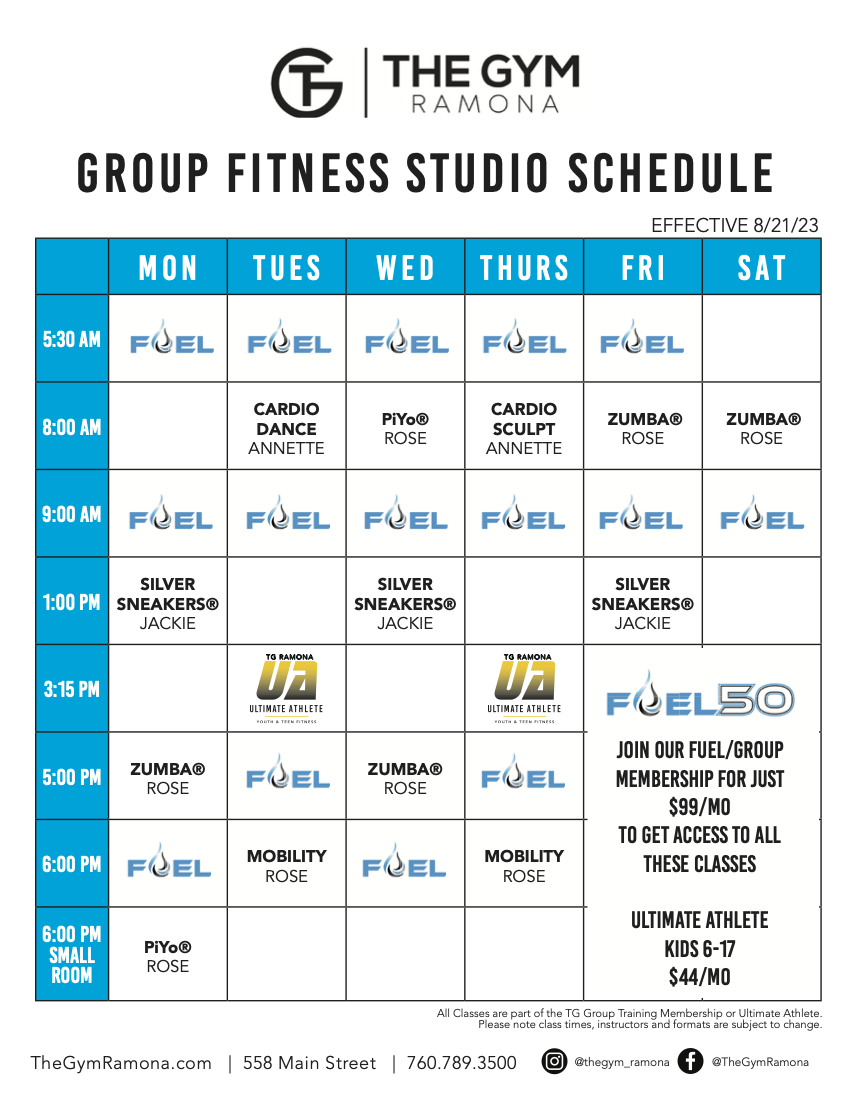 Class Descriptions
Fuel50
Fuel50 is a 50 minute group training format that will motivate, challenge and test you! Yes, all levels welcome and you will always have something to work toward. No stale workouts. No fitness plateaus. Comaraderie, awesome and knowledgeable training teams and great fitness await. Fuel50 is a comprehensive program for all fitness levels. This is not a system based on how long you have been at a facility or how much your trainer thinks you have improved. We have spent over a decade improving our well-rounded strength, endurance and mobility programming. Fuel50 is offered just about every day early morning, mid morning and evening. Check out the schedule! Welcome to your new favorite training program. Ever.
Cardio Sculpt
Cardio Sculpt is a fun, fairly intense class that combines cardio exercises with muscle sculpting exercises, such as the use of weights and barbells. These classes are designed to get your heart rate up and tone your muscles simultaneously, and usually consist of several different exercise formats during each – which means there is never a dull moment!
Cardio Dance
Dance cardio is a hybrid of dance choreography and cardio exercises set to music, creating a heart-pumping workout to keep your body in constant motion. It's the type of exercise that feels more like a party than anything else. Don't be fooled though: this is a body-burning experience.
Mobility
Mobility Class is all about dedicating time to care for your body and soft tissue to promote better movement and improved functional range of motion. Consider this as guided self-care; a practice crucial to your athletic and fitness development. Expect this class to "hurt so good" while you roll, floss, release, smash, and stretch your way to true functional improvement.
PIYO®
PiYo® is a total-body fitness system designed to whip you into shape from head to toe. It combines the practices of Pilates and yoga to help you build strength, lose weight, increase flexibility and have a great time doing it.

Silver Sneakers® Classic
Muscular Strength and Range of Movement: Have fun and move to music through a variety of exercises designed to increase muscular strength, range of movement, and activity for daily living skills. Hand-held weights, elastic tubing with handles, and a ball are offered to for resistance, and a chair is used for seated and/or standing support.

Zumba®
The Zumba® program fuses hypnotic Latin rhythms and easy-to-follow moves to create a one-of-a-kind fitness program that will blow you away. Our goal is simple: We want you to love working out and to get hooked. Zumba® Fanatics achieve long-term benefits while experiencing an absolute blast in one exciting hour of calorie-burning, body-energizing, awe- inspiring movements meant to engage and captivate for life!
Join The Gym Ramona Community Today!
Our fitness professionals at The Gym Ramona are ready to get you started today. Simply fill out the short form on the right side of this page to learn more about our programs and get your fitness journey underway!
Join Here